HTM-03.01 (2021) Compliant Hospital Air Handling Units
For a significant period of time, AirCraft Air Handling have been manufacturing both internal and external AHUs for use at many of the UK's leading teaching and specialist NHS hospitals.
For external applications, AirCraft Air Handling can also design and build an AHU within a fully weatherproof service corridor (click here for our case study example).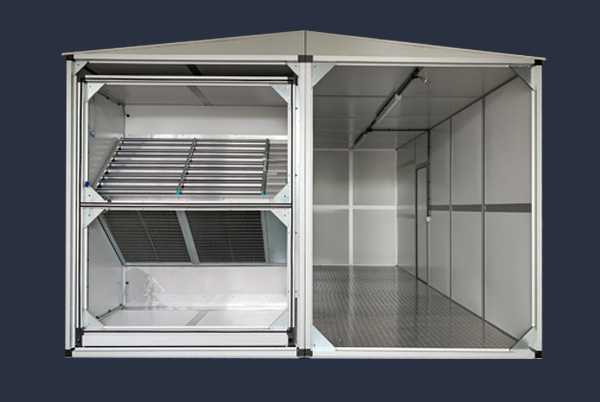 Cutaway example of a packaged AHU with service corridor under construction
Clean and climatised warm or cooled air is essential for ensuring a comfortable environment for patients, staff and visitors when visiting a Hospital.
Our HTM-03.01 (2021) Compliant AHUs are designed to incorporate all the necessary access and maintenance provisions, and constructed to the specified material requirements as outlined within the directive.
AirCraft-Air Handling AHU Construction Specification (HTM 03.01 – 2021)
At AirCraft Air Handling, our team are well-informed about NHS England & NHS Improvement's revised Health Technical Memorandum 03-01 publication which provides comprehensive guidance on the legal requirements, installation and maintenance of specialised ventilation in healthcare buildings. In accordance with these guidelines, we can assist all our healthcare customers in effectively meeting the updated requirements.
To view the NHS England & NHS Improvement HTM 03-01 publications, click the links below:
England & Wales 
Scotland