Heat Recovery AHU
Today with increasing demands for energy conservation and fresh air distribution within a building, an AHU with a heat recovery system provides the perfect solution when considering a replacement AHU or a new installation.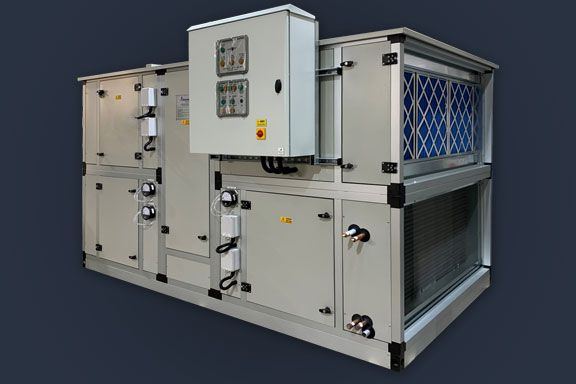 A well-designed AHU operating with a heat recovery system, will recover upwards of 73% of the thermal energy from the extract air stream and input this directly back into the fresh air supply prior to it being distributed via the building's ventilation system.
As a result, providing clean air throughout, and circulating cool air in the summer and warm air in the winter. The units will typically have either a Rotary Thermal Wheel, Crossflow Plate Recuperator or Run-around Coils.
The additional benefit with a fully operational heat recovery AHU is the significant decrease in heating and cooling loads as a direct result of the energy recovered. This in turn will offer lower heating and cooling running costs, and also potentially reduce the levels of carbon dioxide being emitted as a result of the heating / cooling system running on less power, which is ever more important in our decarbonising economy and the race to Net Zero emissions.
AirCraft-Air Handling AHU Standard Construction Specification