In Ceiling AHUs
In many cases when floor space for an AHU is limited, there may be sufficient ceiling height to install an ultra-low-profile AHU to fit within a ceiling void or hung from exposed structural steel beams.
AirCraft Air Handling's ceiling AHUs are designed and manufactured to meet today's requirements for energy and sound reduction; our caseworks are tested to ISO 91.120.20 for sound insulation.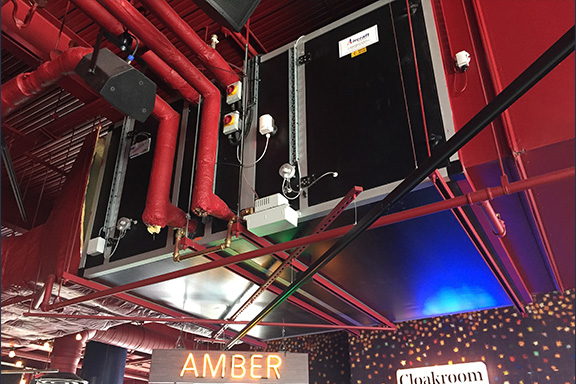 Our ceiling AHUs can be supplied fully assembled or flat packed, for on-site assembly where accessibility is restricted.
Their low profile makes them ideal for use in buildings that are being refurbished or updated to transform an industrial or warehouse premises into a modern, stylish office or leisure facility. They are equally ideal for restaurants, civic buildings, and schools.
Our ceiling AHUs can be provided as full fresh air units or also as a combined supply and extract unit complete with a heat recovery system; Mechanical Ventilation heat Recovery (MVHR) unit that recovers thermal energy from the stale extract air and inputs this directly back into the fresh air supply prior to it being distributed via the building's ventilation system.
AirCraft Air Handling's AHUs are designed to assist with indoor air quality and are manufactured to meet with Breathing Building Standards 2018 BB101.
AirCraft-Air Handling AHU Standard Construction Specification