Catering
Commercial catering facilities and restaurant kitchens must meet strict guidelines to prevent the contamination of food intended for human consumption. At the same time, kitchen staff and guests require a comfortable environment to work and dine in.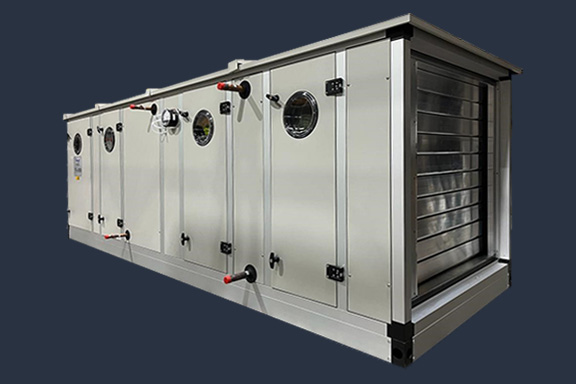 Catering facilities are complex locations with a variety of environments, each with different needs: the kitchen, the refrigeration store and the dining area. The kitchen area is perhaps the most complex, as smoke and cooking oil can produce harmful emissions. Air quality control is important to keep employees comfortable and safe.
Units must often provide make-up fresh air to replenish that removed by the kitchen canopy extract system, and at the same time temper the air to ensure the cooked produce does not cool prior to being served to the dining area.
AirCraft Air Handling have years of experience supplying air handling units for catering facilities and restaurants. For one recent installation, we designed a bespoke AHU system that incorporated five large internal AHUs, four of which had indirect gas fired heating and served fresh filtered, tempered make-up air to the kitchen stations with a combined delivery rate of approximately 60 cubic meters per second when running at maximum speed. The five units were all fitted with packaged control systems that were BMS compatible with BACnet and Modbus data communications protocols that allowed for detailed monitoring of the equipment.
To find out more on how our team can assist with your air handling and ventilation requirements for your catering company, contact us at info@aircraftairhandling.com or on 01782 791 545.